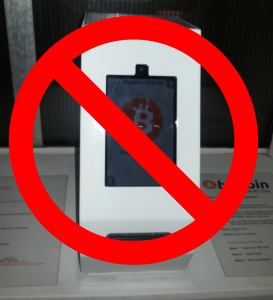 We've reviewed the bitcoin ATM on Dublin's southside that is located in Busyfeet & Coco on Dublin's South William Street in the past.
However, we were in there today for a coffee, and noticed that the bitcoin ATM that has been there for the past year has now been removed. We asked the staff what was about it, and they declined to comment, but this now leaves only one bitcoin ATM in the city, at GSM Solutions available for people to walk up to and get bitcoin.
We did ask in relation to the status of bitcoin in the shop, and they stated that they are going to continue accepting bitcoin for the purchase of food and drink in the café.
We've put in a request for comment from the café owners, and will update this story if we get a response, or if we find out if the atm will be in a new location.
Update: The owners of the café have come back with a comment, that the bitcoin ATM was being hosted in their venue on a 1 year trial, and the owner of the ATM will be looking for a more suitable location to host it with higher footfall.
You can visit our
Buy Bitcoin
page quickly to get bitcoin right now with debit or credit card. If you want to set up an exchange account, we recommend
CoinMate.io
or
Bitcoin.de
for the lowest fees and market prices, or buy off an Irish Bitcoin Broker on
Localbitcoins
.