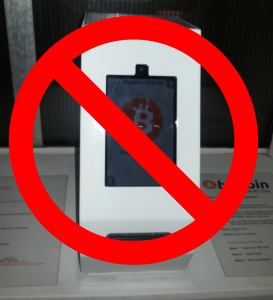 We've reviewed the bitcoin ATM on Dublin's southside that is located in Busyfeet & Coco on Dublin's South William Street in the past.
However, we were in there today for a coffee, and noticed that the bitcoin ATM that has been there for the past year has now been removed. We asked the staff what was going on with it, they declined to comment, but this now leaves only one bitcoin ATM in the city, at GSM Solutions available for people to walk up to and get bitcoin. (14/5/19 update, there are now additional ATM's in Dublin and Cork)
We did ask in relation to the status of bitcoin in the shop, and they stated that they are going to continue accepting bitcoin for the purchase of food and drink in the café.
We've put in a request for comment from the café owners, and will update this story if we get a response, or if we find out if the atm will be in a new location.
Update: The owners of the café have come back with a comment, that the bitcoin ATM was being hosted in their venue on a 1 year trial, and the owner of the ATM will be looking for a more suitable location to host it with higher footfall.
---
You can read all our articles about
Irish Bitcoin ATMs
to find one near you that's available to use. You can receive a 20% transaction fee discount on your first purchase of €100 or more using promo code
BITIRL
on any
Bitcove
ATM.
---
We get asked all the time the handiest ways to buy crypto. For the lowest fees, we recommend CoinMate, a long standing EU exchange with low fees and quick deposits via Revolut. Too complicated? You'll pay more in fees/difference in exchange rate to an exchange, but it can be easier for the uninitiated to use a local bitcoin ATM in Ireland to buy crypto with cash, use an Irish broker like Bitcove, CEX (not the game shop), which lets you buy with credit/debit cards, or Coinbase if you want a mobile app linked to a bank card.
Our site is funded by affiliate links and advertising. If you sign up or purchase through links on our site we may receive remuneration. If you found something useful on our site, we accept BTC donations to 3F5utdL2U7rVou8gTJDBmQp167CDiEeENW, BCH to bitcoincash:qrfuyy8qk2eyjnzfufuvlaqcxjmg0qr8d564ztnd3d, ETH/tokens/stablecoins to 0xdEe0763fdb2FcFb0e65E5a3A035a77DC1425715A or tips via Brave.