During a recent visit to get my phone repaired at Pair Mobile in Blanchardstown Shopping Centre (next to Mannings on the ground floor), I noticed that they have installed a bitcoin and ethereum ATM. I have reviewed the process of using this machine in their Southside store here.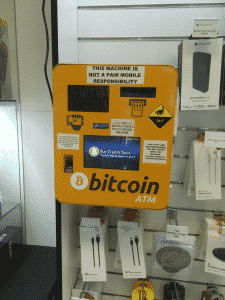 This now grows the network of ATMs established by Boinnex a little further, and this particular ones gives people in the west of Dublin a simple and easy way to go and buy bitcoin with cash.
---
If you're looking to buy bitcoin or cryptocurrencies, we can recommend a few options that we use ourselves. If you want to get crypto quickly with a debit or credit card, we recommend CEX. If you would like to trade peer-to-peer using cash or bank transfers, we recommend LocalCoinSwap or if you'd like to register for an exchange with a solid mobile app you can make bank payments or debit/credit card payments to, you can earn a bonus €9 on your first €90 purchase with Coinbase. If you're looking for a fully featured crypto exchange and trading platform with a wide variety of cryptocurrencies and tokens, we recommend Binance
Our site is largely funded by affiliate links and advertising. If you click a link on our site we may receive renumeration. If you are using adblock, please whitelist us to support us, or if you're a user of

Brave Browser, we're a verified publisher, and welcome any tips!