So as we reported here the other day, GSM Solutions are running a free bitcoin promotion for people based in Ireland. They are a Dublin based company that set up the Irish Bitcoin Foundation and who last year imported Dublin's first bitcoin ATM. However, it should be noted that at least six of the sites listed in the foundation's directory are companies or websites related to GSM Solutions, so bar a couple of random individuals also supporting bitcoin, it's unclear as to how representative the group is, given that many of the people I've met in the local scene aren't members.
But that aside, they are hoping to give small amounts of bitcoin to everyone who wants it in Ireland, and there's two ways to go about it. Firstly, you can just walk into their shop on Upper Abbey Street, and they'll give you a small voucher. If you want to go the web route, you can pay a cent by visiting their site here, and they will post you out a package in the post.
I spoke with Alan Donohoe who runs both GSM and the Irish Bitcoin Foundation about the reasoning behind the promotion, and here's what he said to me.
"People need a simple introduction to Bitcoin to understand it, to educate the people of Ireland about Bitcoin is our primary initiative for 2015. By giving away practically free Bitcoin we see it as the quickest way get people involved. The Bitcoins we give away come in the form of a voucher, just like a mobile phone top-up, however, the added benefit is that with each voucher we have setup a new unique wallet, and a password to access the wallet, So its everything in one package, no need to be fiddling around with Mobile Bitcoin wallets or downloading the full Bitcoin core blockchain to your computer.
In addition, for the security conscious of us out there, the system used to store the Bitcoins is based on BIP32 Hierarchical Deterministic (HD) wallets stored in a Hardware Secure Module (HSM), so we are very happy with that. Multi-signature (multisig) and P2SH technology is also integrated for that extra piece of mind. Either way the free Bitcoins can be stored or transferred to another wallet immediately if you wish.
The free bitcoin offer was initially only available online, we have recently extended this to in-store, so anyone can pop into our Dublin store and ask for a "Free Bitcoin voucher". Once again this is 1 per customer and we ask people not to try abuse this free service."
So part of this is a bitcoin education aspect, and part is a marketing exercise. So to show fellow Irish bitcoiners how it works, I went ahead and did just that, and within two days the friendly An Post man dropped an envelope into my letterbox.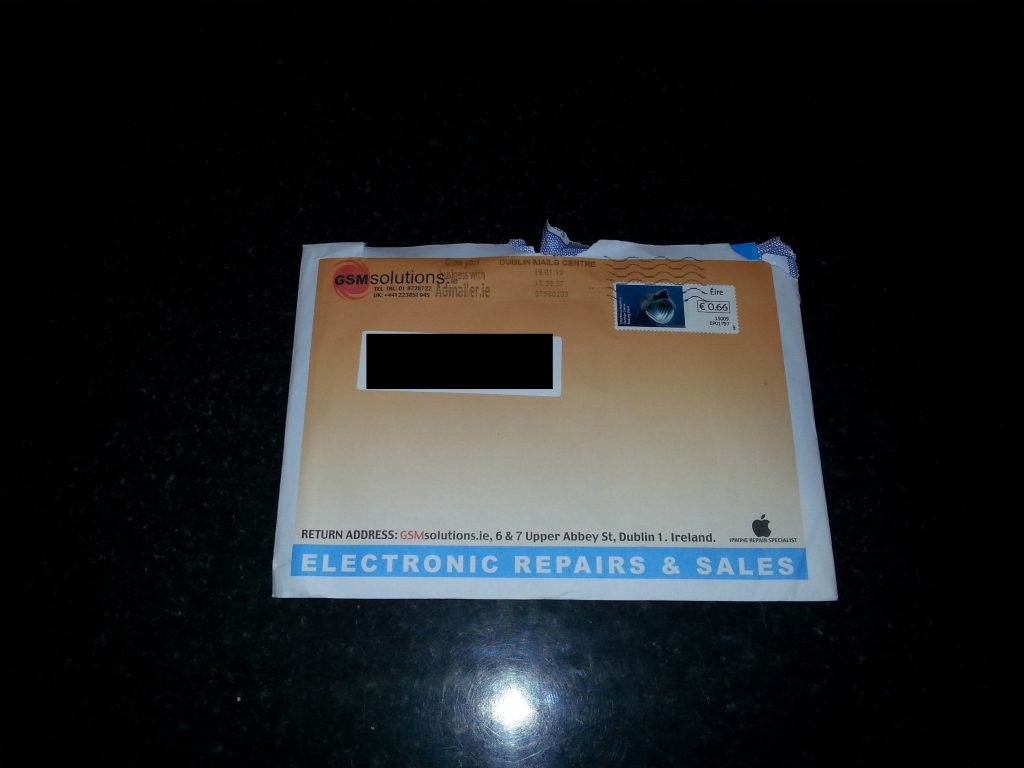 So opening it up, I was presented with the following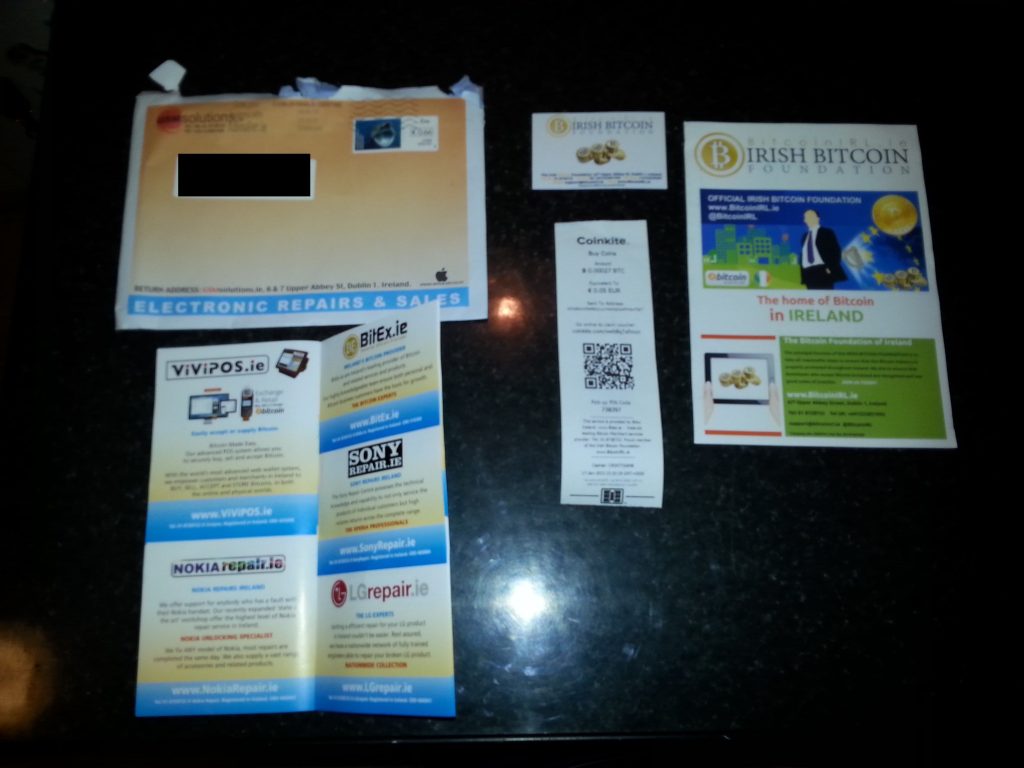 So among the literature, there was a voucher for €0.05 worth of bitcoin from their ATM. This equated to 0.00027 bitcoin. Not a massive amount by any stretch of the imagination, but more than enough for people who are looking to get the basics of bitcoin, ie getting a wallet, putting some coins in and getting the jist of how it works. However, given that transaction fees are usually 0.0001 bitcoin, there won't be much left over. But when I was integrating my first ecommerce integration with bitpay, amounts like this were plenty for me to test that everything was working fine.
There was also a brochure on the full range of solutions that GSM solutions offers, among this being their shop where you can buy things with bitcoin, but also their POS platform, their exchange platform (not live yet), and some information on the Irish Bitcoin Foundation. It's handy to know that I can get the broken USB port on my Xbox 360 fixed, and maybe one of the dodgy shoulder buttons on my Nintendo 3DS fixed with bitcoin, but I would have have been nice if they included information on some of the non-GSM affiliated companies that are members of the foundation in the mailshot, like they list at their directory here.
But either way, the initiative is a marketing campaign that is sure to drive some footfall into their shop and atm. It's a very simple way for people to get their hands on their first bitcoin, and certainly a lot less hassle than trying to go the faucet route like I did when I got started in bitcoin. It's free if you go into their shop on 6-7 Upper Abbey Street, which is just up from Jervis Luas stop, and just a penny if want it sent out in the post.