Exchange allocating 150,000 shares of company stock to contest winners who refer the most users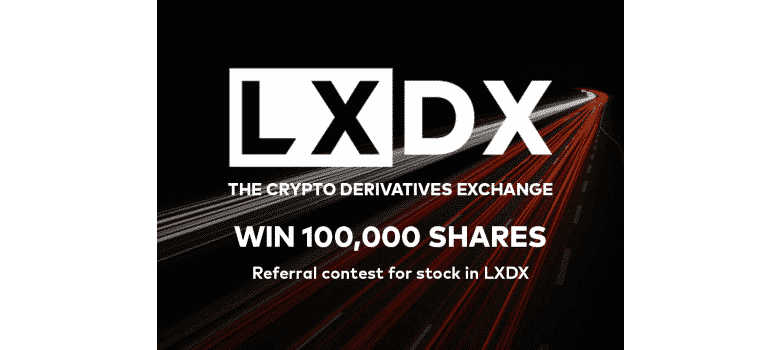 Birkirkara, Malta, November 26, 2018 – LXDX, a cryptocurrency derivatives exchange, announced that it has begun a unique referral contest. For a limited time, any participant will be able to win up to 100,000 shares in LXDX stock, with a total of 150,000 shares being allocated to the contest.
The exchange is set to launch live trading next month, but has recently opened early access to the platform for users to register trading accounts. All registrants are given a referral code that they can share with their network to participate in the contest. When new users use that unique code to sign up the referring user will receive the credit for that account.
The top six individuals who refer the most users will win actual stock ownership of LXDX in the form of company issued shares from the exchange. The grand prize winner will receive 100,000 shares, while the next five runners-up will receive 10,000 shares each.
Joshua Greenwald, CEO of LXDX, had this to say about the contest, "We want to provide every member of the crypto community the opportunity to be an owner in LXDX. That's why we launched an STO and that's also why we structured our referral program around shares in LXDX stock. We started the contest ahead of our exchange going live next month to give the community a head start before the flood gates open."
LXDX is currently accepting investors through a unique Security Token Offering that also provides ownership in the LXDX exchange with a minimum investment of 5,000€. The contest lowers the barrier of entrance allowing almost anyone to become an owner in the exchange.
More information on the LXDX referral contest, include terms, conditions, and restrictions can be found on the contest website: https://lxdx.co/contest.
About LXDX
LXDX is the crypto derivatives exchange. We give you access to institutional liquidity with fundamentally better products you can't get anywhere else.
Leadership
Joshua Greenwald, CEO
Will Roman, COO
Steven Thomas, CTO
John Hazen, CFO
Connect with LXDX
Press: https://lxdx.co/press
Telegram: http://t.me/LXDXchat
Website: https://lxdx.co
Media Contact: Cody Solomon, LXDX
---
Paid press release submission notice
: The publication of a press release on this page should not be viewed as an endorsement by BitcoinsInIreland.com. Customers should do their own research before investing funds in any company. Read more in our
Editorial policy
---