Pluto the #BitcoinDachshund has had a busy day! He's helping to promote the #BitcoinSurvey2016!
His journey has been chronicled on twitter (@BTCinIreland – #BitcoinDachshund)- but you can read the whole story right here:
It started as any other morning for Pluto the #BitcoinDachshund, as usual, with a walk in the park around Dublin. It was sunny today. And twelve degrees. Spring is finally kicking in!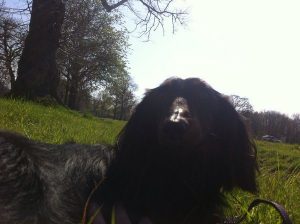 During the walk this morning, conversation turned to business, specifically regarding an invoice that the BitcoinsinIreland.com team had about work that was wanted for the #BitcoinSurvey2016
Pluto the #BitcoinDachshund contemplated his payment options while doing his other business…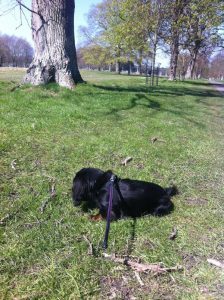 After he returned to the meeting, the #BitcoinDachshund put his paw down and insisted! Clearly paying by Bitcoin was the way to go. In what turned out to be a majestic soliloquy, Pluto the #BitcoinDachshund ignored the rest of the BitcoinsinIreland.com team (not that we'd have stopped him anyway) and explained that he wanted to pay via Bitcoin as he wouldn't need to go to the bank, and it was so easy and convenient he could do it right here in the park!
So he set off to find a spot where he'd be comfortable!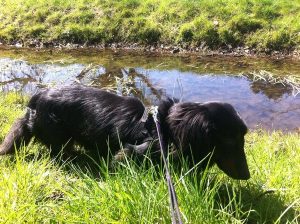 A short way down the stream, he found a nice spot. His assistant had, as always, made sure to carry everything he needed (the #BitcoinDachshund is far too important to carry his own bag).
@Alienware Laptop …check (it's still working after this
@BitcoinTrezor …check (Read our review!)
@Meteor_Mobile connection…check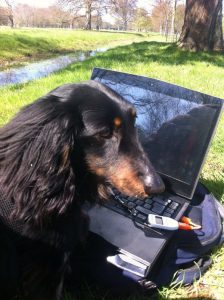 Payment detailed entered, Trezor code entered, payment sent! Mashing the confirmation button with his paw, check! Boom, transaction sent across the blockchain. A quick skype message to let them know the payment has been sent, and #BitcoinDachshund knows they'll start the job after lunch!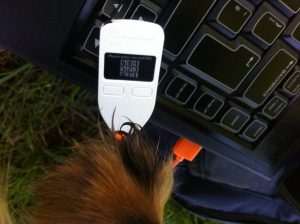 With all of that completed, Pluto the #BitcoinDachshund insisted that the serious business of a walk in the park be resumed, especially considering he has a busy day later as the volunteer supervisor of the BitcoinsinIreland team. The #BitcoinSurvey2016 won't run itself!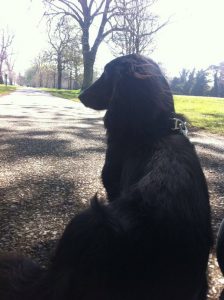 Like the story? Want to see more? Help us out by completing the #BitcoinSurvey2016! – Even if you've only recently heard about Bitcoin, and never owned even a little, we still need and want to hear from you!