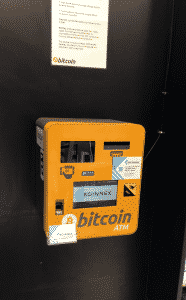 The rollout of bitcoin and ethereum ATM's continues. This time, Boinnex have placed a crypto ATM inside Pair Mobile on the ground floor of the Pavillions Shopping Centre, giving people in Swords and North Dublin an easy way to get their hands on crypto.
While I didn't do a test purchase this time, it's the same model as another one we've reviewed in the city centre branch of Pair.
This expands the competition between both Boinnex and Bitcove who are both based out of Cork who have set out to build a network of crypto ATM's across the country.
Our site is largely funded by affiliate links and advertising. If you click a link on our site we may receive remuneration. If you are using adblock, please whitelist us to support us or send us a tip if using Brave.
---

You can read all our articles about Irish Bitcoin ATMs to find one near you that's available to use. You can receive a 20% transaction fee discount on your first purchase of €100 or more using promo code BITIRL on any Bitcove ATM.

---
If you are looking to buy cryptocurrency with cash, you can read our articles on Irish Bitcoin & Crypto ATMs. If you're looking for a solid EU-based exchange, we recommend CoinMate which we have used for years and have low fees and support for euro. Looking for an Irish based broker? Try Bitcove. Alternatively we recommend which are a little tricker to use, but have a much wider range of pairs. If you want to use your credit/debit card to buy crypto, we recommend UK based CEX. If you'd like to use a mobile app to buy your crypto, we recommend Coinbase who offer $10 free bitcoin on your first purchase of $100 or more. If you'd like to trade peer-to-peer we recommend LocalBitcoins or LocalCoinSwap or if you'd like to swap one crypto for another, we recommend Changelly.