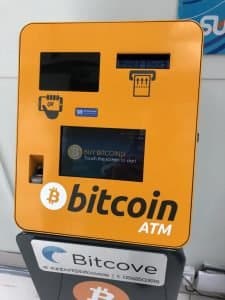 I'm happy to report that a new Crypto ATM is available for people in the Finglas and surrounding area at Charlestown SC. The machine is similar to ones we've reviewed in the past, although this time it's operated by Bitcove, a Cork based cryptocurrency broker that has been running for some time now.
The bitcoin, ethereum and litecoin ATM is located in the mall of Charlestown Shopping Centre in Finglas, specifcally beside the surfbox which is around the back of the O'Briens Sandwich Bar located at the cinema end of the main shopping centre. As with other ATM's, there is a markup over the spot rate for the convenience of using one of the ATMs with cash, as well as a small fee each time you use it.
While there, there wasn't the opportunity to do a test purchase, but the article will be updated after my next visit there once I can make a purchase.
This now means that there are two competiting ATM providers, Boinnex and Bitcove, who are both based out of Cork who have set out to build a network of crypto ATM's across the country.
---

You can read all our articles about Irish Bitcoin ATMs to find one near you that's available to use. You can receive a 20% transaction fee discount on your first purchase of €100 or more using promo code BITIRL on any Bitcove ATM. No bitcoin atm near you? Why not register an account with Binance where you can set up a trading account, or buy crypto with your credit card.

---
We get asked all the time the handiest ways to buy crypto. For the lowest fees, we recommend CoinMate, a long standing EU exchange with low fees and quick deposits via Revolut. Alternatively we recommend Binance which has a wide selection of cryptocurrencies and the ability to purchase with a credit/debit card. Too complicated? You'll pay more in fees, but it can be easier for the uninitiated to use a local bitcoin ATM in Ireland to buy crypto with cash.
Our site is funded by affiliate links and advertising. If you sign up or purchase through links on our site we may receive remuneration.