Check out our full Crypto Casino List for other betting providers.
It is illegal to gamble under the age of 18 -

Part of our
Bitcoin Gambling
series
Note: Before I start with this, please be aware that any bet discussion on this page is not a recommendation or anything like that, this is all personal opinion and if you decide to bet, this are not guarantees or anything like that. They're just my thought process.
Second note: I've delayed the writing of this article by a few days as the sports books are adding the events as they come up – so some of the events that I might indicate as missing from pages below might be added onto the pages as the events get closer.
Its time! The Olympics are back again, this time with the carnival feel of Brazil! Even the Russians are invited to the party, but the important thing to those of us who are followers of gamblor, loads of stuff to get our bitcoins on.
With that in mind, lets take a look at the different offerings from a few of the bitcoin sportsbooks.
First up, I'll get Lunarbet out of the way – normally one of my preferred places to bet, but in this instance, they are not offering bets for the Olympics :(. Well, they have got bets for round 1 of the women's tennis, but, for me, I need more. So with only 1 event being offered, I'm not going to spend time looking at the Olympic betting on them.
Now for the places offering a few options for the Olympics! First up, my go to place for btc betting, Nitrogen Sports!
Nitrogen have all of the Olympic specific betting that I'd expect – bets for the medal table and bets for specific country gold medal totals. Great! Team USA probably my choice on that one, but China always have a strong showing. I'd like to see betting options for specific country medal totals including silver and bronze medals, but gold medal totals are what really matter.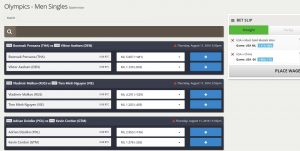 Now for Nitrogen and betting on the individual events – most of the events I have an interest in are covered in their usual sports sections – but there are a few missing that I'd like to see. I'm a keen cycling fan, and would have liked to see some of the bits on the velodrome covered, as well as the road race and time trial covered (and for the time trial, I still reckon Tom Dumoulin, the Dutch time trial champion, is looking golden – even with the broken wrist he suffered during the Tour de France).
Next up! CloudBet! These guys don't have any specific Olympic betting section for things like medal tables, are don't have a huge number of the events covered (only the sports that they regularly cover), but they do have decent odds on the sports that they are offering.

Overall though, I find the CloudBet UI a little awkward when trying to find the Olympic events – worth it if they're offering the event you want though.
DirectBet is a cleaner UI which makes it easier to find the sports I want to bet on, but the odds given are not as good as on Cloudbet, and with not as many options to bet on as with Nitrogen. The do have an option to bet on the medal tables – with better odds then Nitrogen.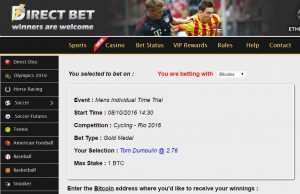 On the plus side for DirectBet, I have been able to find many more of the events I want to bet on – So I can still cheer on Tom Dumoulin with the added fun of some of my BTC on the line!
Coinbet24 are offering rather standard betting options – no specific Olympic bets and only the sports that they regularly offer. This is the one you'll use if you like the Coinbet24 UI, and have some of your btc on there ready to go, but I'd not go out of my way to get btc on here as the odds are equivalent to the others (slightly worse then DirectBet, but not massively).
And finally, I had a look at Jetwin. At first glance, I was excited by how they'd shown their bets. Olympics is a category in the top bar, and I clicked on it hoping that it would show me all of the Olympic events that I could bet on, but no. Like all of the others, this leads you to where you can bet on medal tables etc with 1 major exception… They're not taking bets on any of that stuff, so the Olympics page shows text reading ' No open bets at the moment'.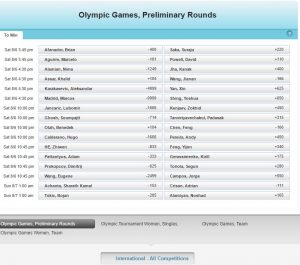 They are offering bets on the usual sports that they offer (but not all of the Olympic events for these are covered), and even then, the odds are middle of the road, and I always find Jetwin difficult to navigate around.
Overall, I think I'll be going with Nitrogen Sports and DirectBet for my Olympic wagers but I've still got plenty of work to do to find who I'll be betting on in most of the events! Although, only CloudBet are offering odds on the Women's Beach Volleyball…