Check out our full Crypto Casino List for other betting providers.
It is illegal to gamble under the age of 18 -

Part of our
Bitcoin Gambling
series | Promoted Post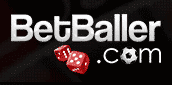 With the premiership starting soon, we've been looking at different ways to bet our bitcoins on it, and while we were doing some research on this, an interesting email landed in our inbox from BetBaller.com – content of the email was a bit mysterious, but definitely interested me enough to click on the link, and the website itself explains all! But in order to get as much information as possible, naturally, we responded and had a bit of a chat with the lads based right on our doorstep… and now we love it even more.
They're giving away 150 btc (yes, 150 with no decimal places – current exchange rate puts that at over €80,000). What makes this even crazier, 150 btc is a low estimate. The prize is the btc equivalent of €100,000 on Christmas. Details can be found at betballer.com/eplgiveaway
To win, all you need to do is predict the top 8 teams in the right order at Christmas.

When we talked with Sean Francis (Marketing Manager for BetBaller.com) he said 'We were knocking some ideas around in the office and agreed we needed to offer something that would keep people interested for at least a few months and offer something big for Xmas. On top of this, as we all know, things can be much more volatile position wise in the first half of the season….Maybe things will be more predictable after last years craziness, who knows?'
Now for a few more details on the competition, there's a requirement of 1 bet a month prior to crimbo, and entries need to be in by the 12th of August (day before the first game), but its limited to only 500 entries and as Sean said 'This is obviously a global competition but we would love nothing more than to pay out an Irish winner, hence releasing the idea to the idea in Ireland first as we are capping the entry at 500'.
So now, not only do I need to work out if Arsenal / Liverpool will have 3 or more goals, I also have to consider if Zlatan will bring United to the top spot at Christmas…