Check out our full Crypto Casino List for other betting providers.
It is illegal to gamble under the age of 18 -

Promoted Post – Part of our
Bitcoin Gambling
series
---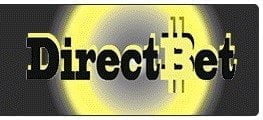 We had a look at DirectBet a little while ago, and last weekend, a few hours before Ireland beat England in the 2015 Rugby Six Nations, we decided that we'd take a punt. The site offers a large range of sports on offer, but as we were being very patriotic and hoping that we'd hammer the English in the Aviva, we placed a few bets on the match and hoped for the best! Our experience is below.
Screenshots
DirectBet is a sports betting platform that lets you bet with bitcoin, litecoin, dogecoin and darkcoin. It offers a wide variety of bets on a huge variety of sports. In our case, it was rugby, but they have soccer, boxing, tennis, motor racing, and a whole host of other European and North American sports.
As we're Irish, the Irish rugby team is playing really well, and Ireland v England at home is always a bit of a grudge match, we had some bitcoin and had a look at what our options were.
For the Six Nations, DirectBet offers a range of outright decisions on the tournament in one section. This lets you bet on the outright winner, wooden spoon (tournament loser), Grand Slam (winning all matches), Triple Crown (England, Ireland, Wales & Scotland beating the other three teams), Top Points Scorer, Top Try Scorer (Rob Kearney is currently @ 19), total tournament points and tries.
So from this, we bet 0.01 each on Ireland to win the Triple Crown (3.95), Ireland to win the tournament (2.68) and to do the Grand Slam at the same time (3.85). This was before the match, and as of date of publication (12/3) these have changed to 2.12, 1.6 and 2.14 accordingly, as we won. We placed single bets, but you can build up parlay bets too, if you want to string a couple of things together.
Betting is straightforward. You choose your bet, and are then given a bitcoin address to send whatever you want to bet. I couldn't find a minimum amount. You can put in your email to get a receipt at the time of betting, or get one of all of them later on. Bets are credited quickly, and the rules state that bets received outside of the timeframe are credited back automatically after one confirmation.
I did notice it then saves your bitcoin address, which makes it easier on subsequent bets and a nice little touch. You also get loyalty points in DirectBet's VIP Program based on the volume of coins you bet. for bitcoin, it's 1 point per 0.001 bet, and when you hit 5000 you get 20mbtc at the low end which grows as you spend to the top tier of 1,000,000 points giving 3 bitcoin in the form of free bets. This gives a maximum of ten bitcoin worth of bets. These bets need to be made, and then email contact made, so it isn't automated, but we've been informed this will be changing shortly (by end of March) to an automated method.
We also looked into the match specific bets, of which there were plenty. While the terminology might be a little hard if you're new to betting, we picked some ones we thought we'd like the look at that might come off being massively optimistic. On these, we bet 0.005 bitcoin for these ones – Ireland to win @ 1.87, Draw / Ireland @ 16, Ireland First Try @ 7 and Ireland Over 12.5pts @ 6.2
So in our case, we won @ 1.87 on out 0.05 bet, and we received back 0.00935 bitcoin within a couple of minutes of the end of the match. And were gutted that England made a fightback in the last part of the match which would have been nice if it came in.
So overall, for our first time betting on the site, the experience was straightforward, with loads of choices. Lodging bets was easy, just sending from my wallet to an address, and going through the whole thing end to end we got our winnings less than ten minutes after the end of match whistle blew. If we can beat Wales this weekend, we're still on track for the final match against Scotland to see if our three remaining bets come through. So DirectBet lets you do the same, for your sport, without queuing at your local Paddy Power, or having a gambling transaction running through your bank statement.
Our site is funded by affiliate links and advertising. If you sign up or purchase through links on our site we may receive remuneration.