This is part of our series of article's and interviews from this year's Blockchain For Finance Europe 2017 conference at the Aviva Stadium on 3rd & 4th of October. Click here to see the full list
---
On a bright and actually not bad Dublin morning on the 3rd of October, I attended Blockchain for Finance Europe at the invitation of organisers Fintech Network on behalf of BitcoinsInIreland.com. While not the largest event by European standards, and also clashing for attention with an event in Barcelona, nonetheless about 250 people joined a host of local and international people from a cross section of the blockchain sector. Among the booths, with the fantastic backdrop of the Aviva Stadium's pitch, I sat down to talk with Giovanni Lesna, a South African gentleman who is Business Development Manager in the Hedge Crypto team based in the blockchain friendly canton of Zug in Switzerland. He was in Dublin to network, showcase his brand, and also meet with some of the many in attendance as they look for a retail partner.
Their token sale is running until October 15th at https://www.hedge-crypto.com/crowdsale/. The current crowdfund has already exceeded it's soft-cap of $1.5m which it reached a number of days ago, and has 48 hours to go at time of writing ending on 15th October at noon CET. On how Giovanni found running an ICO, he said it was many things, plus little sleep.
He introducing their platform, Hedge, which provides publicly available market data on cryptocurrencies and companies using different post-ICO ERC-20 and other forms of tokens, and an index called the CCX30 to give a S&P500 style index to enable those interested in the sector to benchmark and evaluate the top performing cryptocurrencies. They also have a strategic partnership with Rialto to use their infrastructure and services. This is the first with an official public rulebook explaining how the index is calculated, and adjusts to changes in market capitalisation. They have signed deals with Reuters and Morningstar to have their CCX30 listed on the respective tickers, as well as now running the Buchman Crypto 30 Index (factsheet). They are also integrated with the Icon Trading platform from the UK, where people can pull in data from the index and monitor in real time.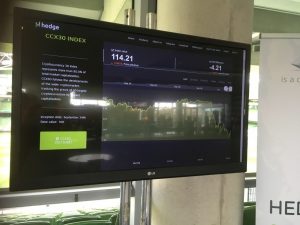 Their crypto top 30 represents 90% of the total cryptocurrency market capitalisation, which now numbers approximately 1,000 different altcoins, each with their own applications or uses, and new being added every day. Funds raised from the crowdfund will be going into product development to be one of the first EU Regulated, KYC/AML compliant EFT's on the European market, and building out the team & trading platform, security, escrow and multi-sig wallets to ensure a safe and secure end-user experience. They are also building an underlying platforms to enable people to trade all of the different coins on the index, with their distributed team, 60% based in Slovenia, with team members in Zug, Switzerland, the UK and South Africa. Later in the road map, they also plan to develop tools for derivatives and options, as well as different tools to enable investment diversification.
As with every person running an ICO, I asked what the point of the token was then? Giovanni explained that it is a utility token to transact on the platform. Every time you choose to buy an index, you can use the tokens for the purchase and to pay transaction fees, which are competitively priced at less than 1%. Similar to passive investment offerings like Vanguard, iShares or Blackrock, this would enable investors who have an interest in cryptocurrencies to narrow down their investment choices with vetted and screened cryptocurrencies with a strong underlying point giving them value.
So best of luck to them with the project, and we hope they had a nice couple of days in Dublin. Over the coming weeks we'll be publishing a series of articles and interviews on the BFC2017 show, click here to see the full list.