There's a high-profile blockchain finance event which was announced for Dublin's Aviva Stadium on October 3rd & 4th this year. We'll have some more information direct from the organisers in the next week or so, but for the meantime check out the press release below, and you can get tickets which have a early-bird €600 discount if you book before 11th August, and yes bitcoin is accepted (you just have to contact them first for an invoice).
It has also been confirmed that Hyperledger and the Ethereum Enterprise Alliance will be joining the conference, as well as an infographic on potential regulations in the sector which you can get from http://blockchain.fintecnet.com/blockchain-regulatory-infographic.html
We have also organised an additional €100 discount for readers of BitcoinsInIreland.com off tickets, simply enter the promo code BITIRE100.
We have also added the event to our event guide.
---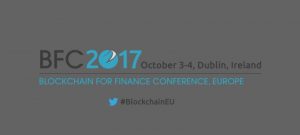 PRESS RELEASE
Barclays, State Street, Credit Suisse, Bank of Ireland and Fidelity Discuss the Future of Blockchain
Full speaker and sponsor line-up for the Blockchain for Finance Conference on October 3-4 in Dublin has now been announced
DUBLIN, IRELAND, June 22, 2017 — Barclays, State Street, Credit Suisse, Bank of Ireland & Fidelity are among 10 host sponsors who will utilise the 2nd Blockchain for Finance Conference, Europe (October 3-4, Dublin) as a platform to debate critical challenges facing financial services when it comes to blockchain adoption.
As financial institutions continue to plot the path to commercialisation, the conference will help you move your DLT projects from POC to deployment by discussing:
• DLT & the Wider Digital Business: Senior executives including Barclays' Vice Chairman Jeremy Wilson, will assess how financial institutions see blockchain and other ledger technologies fitting into their broader digital strategy
• Financial Use Cases: Credit Suisse, BNP Paribas, KBC and Banque de France will showcase their latest blockchain projects in trade finance, syndicated loans, fund distribution and SEPA credit identifiers to highlight the opportunities that DLT offers to the sector
• Blockchain & Ledger Tech: Hear from the most revolutionary tech companies including Wave, Melonport, IOTA, Stellar and Aeternity to see how you can get involved and collaborate on their fascinating initiatives
• Regulation & Compliance: Examine how smart contracts, the data economy and standards will play a huge role in the future of blockchain technology with contributions from the European Commission, Arthur Cox and Zerado
With over 40 speakers sharing their knowledge at the Aviva Stadium in Dublin, the conference will provide you with all the tools you need to move your blockchain projects from hype to prototype.
Download the brochure for the full speaker line-up: https://goo.gl/oTwFUX
For further details, please contact the conference organiser on:
Dean Murphy, Director, FinTech Network
t: +44 (0) 203 468 9461
e: [email protected]
Dean Murphy
FinTech Network
02034689461