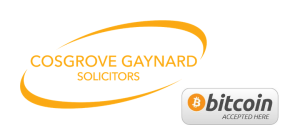 With more and more individuals and companies getting involved with cryptocurrencies these days in Ireland, including an increasing number of companies operating within the ICO space, Dublin based Cosgrave Gaynard Solicitors have recently announced that they are now accepting payment in bitcoin against legal services.
So now if you need to hire a lawyer for litigation, property law, insolvency, restructuring, aviation, finance, leasing, probate, family law or any other legal requirements, you can now use your cryptocurrency to pay for legal fees. The announcement is available here.
Our site is funded by affiliate links and advertising. If you sign up or purchase through links on our site we may receive remuneration.