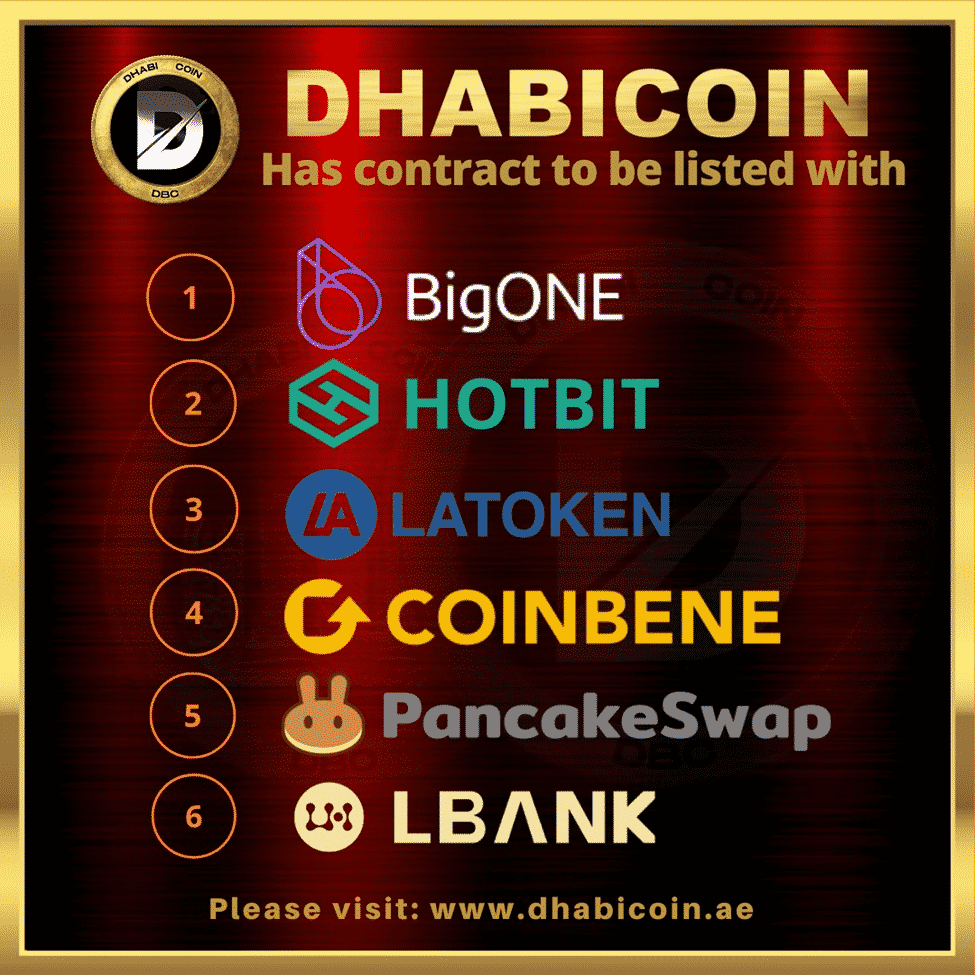 The team behind DhabiCoin (DBC) hasn't stopped working for a moment since the DBC token began its ICO phase in March of this year. That's because the DBC team's commitment has always been to bring to its investors and the cryptocurrencies world market what is most innovative, safe, and promising globally. Now, about a month before DBC is officially listed on six world-class exchanges, DBC has signed a pre-listing agreement with the LBANK Exchange. With this feat, DBC enters the list of the Top 25 best exchanges in the world, according to the CoinMarketCap.
Founded in 2015 and registered in the Virgin Islands, LBANK is the high-tech crypto active trading platform in over 220 countries. LBANK is licensed by NFA, US MSB, Canada MSB, Australia austrac, providing safe, professional, and convenient cryptographic asset exchange services, derivatives services, currency quantification, and other businesses to global users. LBANK has a daily volume of over $1 billion and around 28 BTC every day.
LBANK is headquartered in Hong Kong and runs primarily in Asian markets, but the brokerage has clients worldwide and offers its services in English and Mandarin. By announcing yet another pre-agreement to the DBC community and the worldwide encryption market, DBC ends up surprising and more efficient than analysts initially assumed. At first, the team behind DBC had showed that its cryptocurrency would be released on four exchanges, but DBC announced another solid pre-contract on its networks a month before launch. The effectiveness that DBC has shown to other cryptocurrency financial operators is reflected in the numbers achieved in such a brief time. More than 30,000 investors spread across almost sixty countries have bet on DBC and have everything to reap the financial results.
Another essential point for DBC investors is that LBANK, since its founding, has never had any reports of hacking its platform or loss of resources. LBANK implements the most modern security features globally and has SSL encrypted servers. Plus, it has two-factor authentication for logins, transactions, and hot and cold wallet storage. Likewise, each user is treated equally with the same services. Similarly, users do not have to give any identifying information. They should remain anonymous while trading on their platform, keeping one of the successes of the cryptocurrency market, which is precisely the decentralization of operations and anonymity.
In the active encryption market, there is a wide variety of exchanges. What will differentiate them from each other is the integrity of their processes, the ease of navigation for users, the transaction fees, and the negotiation speed. These are precisely the strengths of the LBANK exchange.
As previously reported, DBC has pre-contracts with five other significant exchanges: HotBit, BigOne, Pancake Swap, CoinBene, Latoken, and now LBANK is into this fantastic group. DBC is already operating its IEO (initial exchange offers) in LATOKEN. With that, you can buy the DBC token today on the official DBC website or on LATOKEN itself. The year 2021 was significant for DhabiCoin, but 2022 promises to be even better for everyone who invested in DBC. Starting in January 2022, DBC will reach the top, and there are estimates that it will be one of the biggest crypto assets on the market in much less time than one might suppose.
To learn more, visit https://www.lbank.info/ and https://dhabicoin.ae/.
---
Paid press release submission notice
: The publication of a press release on this page should not be viewed as an endorsement by BitcoinsInIreland.com. Customers should do their own research before investing funds in any company. Read more in our
Editorial policy
---