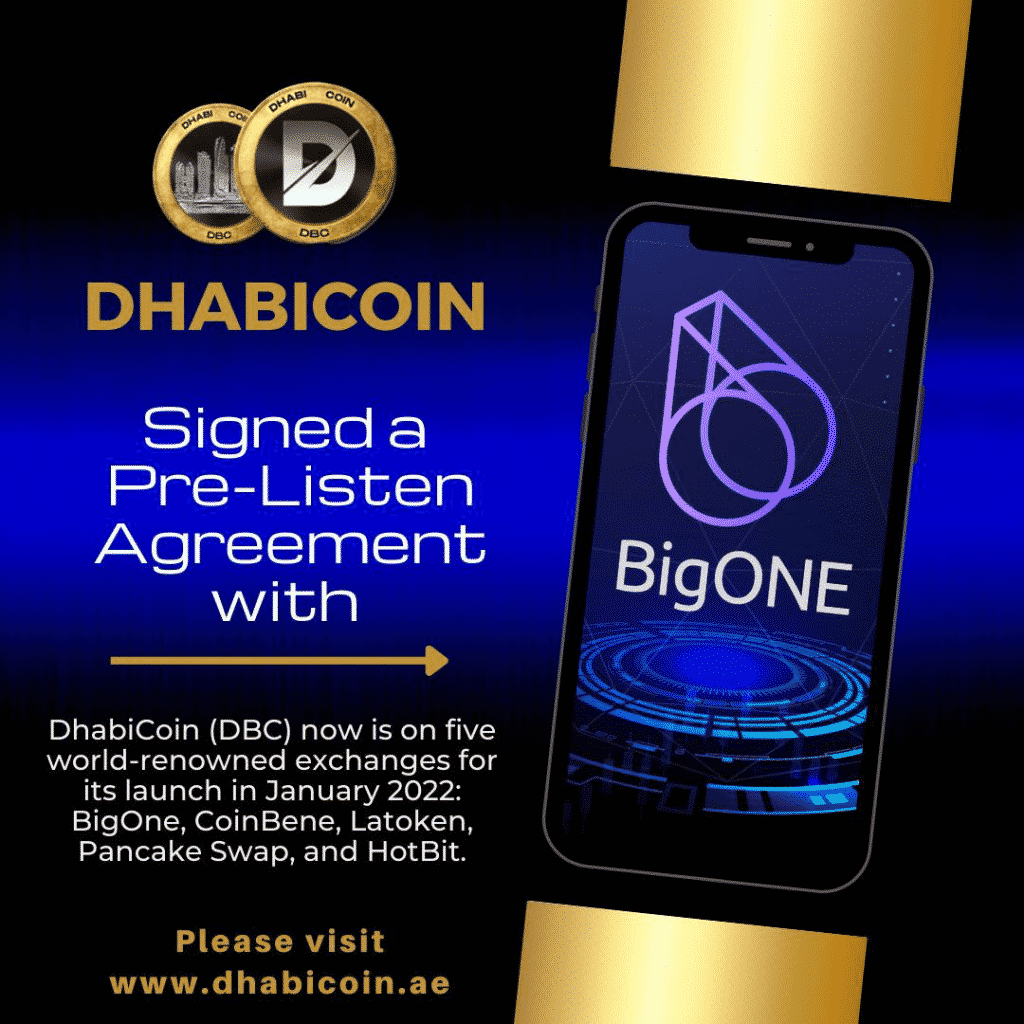 One is not enough, two is good, three is necessary! Now it's on five exchanges for launch is an extraordinary achievement in the world of cryptocurrencies, and this feat has just been achieved by the DhabiCoin (DBC) token. DhabiCoin (DBC) announced on its social networks another pre-listing agreement for 2022 and this time, it is the gigantic Dutch Exchange BigOne.
BigOne started its market operations in 2017, the group has offices in Russia, Brazil, Vietnam, Seychelles, Singapore, Japan and Indonesia, providing marketing, investment and blockchain technology research and development. For example, BigOne has spot/margin trading, poup one and PoS mining pool. In addition, BigOne operates the largest and most used cryptocurrencies on the planet, such as Bitcoin, Ethereum, Ripple, Dogecoin, among others.
The exchange even has the OTC-desk system, as it allows you to buy cryptocurrencies from other users. You negotiate directly with those who sell and with those who buy with all the security offered by BigOne and it is possible to pay via Alipay or WeChat Pay.
BigOne has a high volume of daily transactions and the liquidity of the more than one hundred tokens listed on the exchange is impressive. According to CoinMarketCap, BigOne averages daily transactions in the range of two billion three hundred million dollars every 24 hours. Add to that the approximately 39 Bitcoins every day. Also, what does this mean for those who have the DhabiCoin crypto? It means that DBC's degree of visibility, valuation and liquidity will be very high, and with this DBC token owners have a much greater chance of profitability in their transactions.
Announcing yet another pre-contract for the worldwide crypto community that monitors and, above all, invests in DBC is more than a commitment of our team, it is evidence of how much it is committed to transforming this token into a powerhouse for the coming years. The effectiveness that DBC has shown vis-à-vis other cryptocurrency financial operators has been reflected in the numbers achieved in such a short time. The pre-listing on one of the biggest exchanges on the planet just shows how assertive the DBC project is.
Another important point for DBC investors is that BigOne has one of the most competitive operating rates in the world market. The advantages are for both those who buy (takers) and those who sell (makers). Buyers pay 0.06% and sellers receive a discount on their trading fees and only need to pay 0.02%. These rates are broadly in line with industry averages, in fact even lower than the world average.
There are many exchanges in the crypto market, but what will differentiate them from each other is the integrity of their processes and the ease with which users have operations. BigOne exchange never manipulates or configures the system to take advantage. On the contrary, for her, it is extremely important that its users have the greatest possible transparency and clarity. In addition, users have an easy-to-use, secure platform and can download BigOne's app for both iOS and Android systems.
DBC already has pre-contracts with four other major exchanges: HOTBIT, LATOKEN, COINBENE, PANCAKE SWAP. Achieving the feat of being pre-listed on BigOne is the recognition by the specialized financial market that the DBC project is not fashionable and, on the contrary, it came to consolidate and revolutionize the world market for cryptocurrencies.
DhabiCoin has shown itself to be very competent in its actions. That's because it has sought support from great market specialists and always adjusts when necessary. The BigOne exchange joins the team behind DhabiCoin, with its technology, experience and commitment to deliver to its users the best in the market.
To learn more, visit https://www.coinbene.com/ and https://dhabicoin.ae/
---
Paid press release submission notice
: The publication of a press release on this page should not be viewed as an endorsement by BitcoinsInIreland.com. Customers should do their own research before investing funds in any company. Read more in our
Editorial policy
---