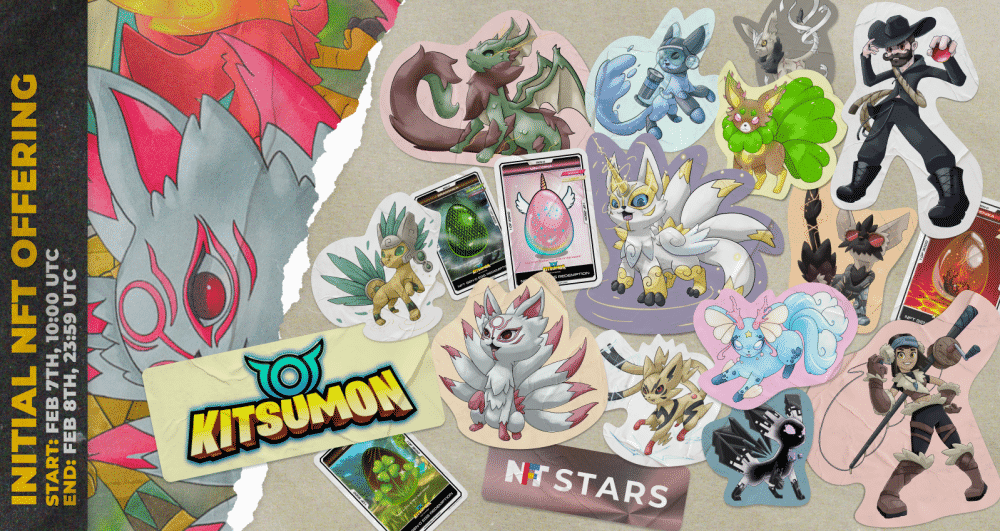 NFT STARS is happy to announce its first ever exclusive P2E project drop, featuring Kitsumon. Soon enough, you will be able to purchase their in-game NFTs on our platform and this is just the first step towards opening the platform up to the P2E industry.
The NFT STARS marketplace could not stay away from the runaway P2E train, in fact we are laying down new tracks to converge with it. As part of the platform's version 2.0 update, NFT STARS is actively seeking partnerships with promising new P2E projects. Its first break into the P2E industry is going to be the INO of one gaming project's in-game NFT assets that is scheduled for February 7th, 2022. Welcome to the NFT STARS marketplace's collaboration with Kitsumon, an online multiplayer game!
Kitsumon is a gaming metaverse where anyone can buy and own Kitsu, collect and create exciting items and participate in online battles and challenges. This is not just a game for blockchain enthusiasts, it has the potential to bridge blockchain technology to the general gaming community, which means exposure to billions of players. Kitsumon is designed in a way that allows players to benefit from their efforts by making many of the game assets user-owned and controlled.
The game features in-depth breeding with limitless possibilities and amazing 3D models designed by ADIA. Breeding involves a bloodline royalty system that lets users earn money for life through the Kitsu offspring that they sell on the market.
Kitsumon utilizes Polygon's Matic network that offers advanced blockchain and in-game DeFi features. Apart from NFT assets and crypto tokens, the Kitsumon ecosystem will deploy and fund liquidity trading and hold community competitions and promotions.
NFT STARS 2.0 — what is the new vector?
NFT STARS was launched just in the mid-2021, it's primary focus being on exclusive celebrity drops. Success came within a very short period of time, mainly through collaborations with great artists from all over the world and we managed to sell some truly unique items. Our vision from the start was always to go much further than this. The NFT STARS team sees how fast the GameFi industry is developing, gaining thousands of new followers every day. We've also noticed the huge interest from investors who want to benefit from this fast growing sector. That is why NFT STARS is plotting a second course and expanding its activities into the gaming world.
What does this mean for all our users who know and love us as a celebrity drops platform? Nothing! We shall continue presenting talented artists and their masterpieces on a regular basis. You'll still find fantastic new art, just as you have grown accustomed to and you'll still be able to purchase NFTs from incredible artists.
The difference from now on is that this is not all you'll find. NFT STARS is welcoming a completely new, united community of gamers into its midst who will breathe new life into the project. Responding to the flourishing gaming community, we will be listing NFTs of GameFi projects and developing our position in the secondary market as an in-game asset trading platform.
This does not mean that NFT STARS will be limiting itself to gaming-centered drops. In future, we plan to cast our net over Art, Music, Metaverses and beyond in pursuit of our ultimate goal – to become the leading NFT marketplace.
Learn more about Kitsumon by going to their official social media pages: Website | GitHub | Reddit | Instagram | Discord | Twitter | Telegram | Facebook | MediumLearn more about NFT STARS by going to its official social media pages: Website | Instagram | Twitter | Telegram | Facebook | Medium & YouTube
---
Paid press release submission notice
: The publication of a press release on this page should not be viewed as an endorsement by BitcoinsInIreland.com. Customers should do their own research before investing funds in any company. Read more in our
Editorial policy
---