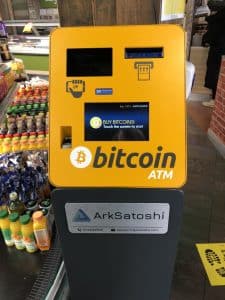 On a recent visit to Dublin City Centre, I spotted a brand new bitcoin ATM hosted in Spar on Talbot Street (opposite Supervalu, the Connolly Station end of the street). I haven't made a test purchase yet to work out fees, although I may do this next time I'm in the area.
Put in place by a new bitcoin ATM operator called Ark Satoshi, which from what I can see has a couple of other ATMs placed around the country, it adds some new crypto ATMs to the market, with now three different operators providing a network of machines covering an increasing number of towns and cities.
---
You can read all our articles about
Irish Bitcoin ATMs
to find one near you that's available to use.
---
We are often asked what's the handiest way to buy crypto in Ireland. You can get some first trade bonuses with Coinbase ($10 when you purchase your first $100). You can also buy mainstream crypto's with cards on CEX or Binance have one of the widest ranges of crypto's and tokens. Alternatively if you want to trade peer-to-peer, you can find a local broker on LocalCoinSwap. If you're not on , they now allow you to earn a few euros worth of crypto through their Earn section, and now let you withdraw crypto purchased on the platform to an external wallet (you still can't send it to the platform though)