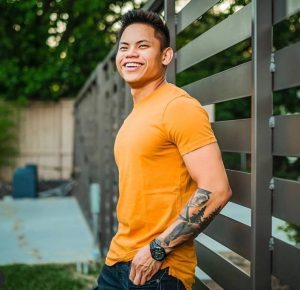 The year 2021 is what people call the "Bitcoin Year", and the reason is self-explanatory. This recent bull-run has brought to the crypto community not only vendors but also institutions and big businesses.
Elon Musk invested $1.5 billion in Bitcoin, and in less than a month, he got a $1 billion profit. Therefore, the news spread quickly. A huge wave of people joined the crypto hype, bringing Bitcoin to a market cap of $1.7 trillion.
But what if I told you that Bitcoin is not your ticket to a life without financial worries?
Who says that? A person who caught my attention a few months ago and who continues to surprise me with every new video posted on his YouTube channel – Ken. Ken the Crypto.
Who is Ken?
Ken is a crypto enthusiast passionate about investments, who owns the YouTube channel I've bumped into three months ago – "Ken the Crypto". And let me tell you, it's one of the best crypto channels I've come across.
What I like about him regarding his channel is his casualty when he explains some of the strategies.
He is very transparent and sincere, never claiming that he is an expert. His reviews are based on his own experience, and he is happy to share it with other people – however, he doesn't describe himself as a financial advisor.
He risks; that's what defines him. He may succeed, he may lose, but he experiments – finding new gems and new strategies.
Another thing that I consider very ingenious about him is that he doesn't work with Bitcoin but with Altcoins. Especially those with a small market cap. And he gives an excellent explanation for this.
You buy them at a really low price and their value doubles by the day. It's a quick and easy way to earn additional money. And if you want to have great results, then don't be afraid to buy as much as you can.
Ken's investments are mid-high risks, with at least $10,000 up to $50,000 per project. The positive changes in the value of altcoins make profits up to 10 times the investments, which is a lot.
And people's comments prove how many lives became better with his channel's help, from those of prudent people to riskier ones. For example, a fan invested $600 and came out with $6,000. Another one invested $33,000 and led to $100,000 in less than a month.
The more you invest, the greater is the result. If an altcoin doubles in value and you invested just a dollar, you wouldn't earn much. But imagine if you invested a hundred dollars, or even a thousand.
How is his Youtube channel different than the other ones?
Besides his experiment results, the channel stands out with Ken's dedication and attitude towards his viewers.
First of all, he never says "do what I do and success will be guaranteed". Quite the opposite. Those strategies worked for him, but that doesn't mean it will work for you 100%. He encourages his viewers to do their own research before jumping to his strategies.
At the same time, he gives plenty of information we can use in our investments, from trades to lists and even resources.
Second of all, his channel has very interesting videos, which talk about particular subjects that Big YouTubers and news articles don't really cover – like how to prepare for a crypto crash or the reasons you don't make profits with some altcoins.
He also presents market changes that substantially influence altcoin's values. For example, he noticed that the FOMO phenomenon is bigger than ever among most crypto users and that some exchange fees became way too pricey.
And sincerely, I would never forget how he opened my eyes regarding Ethereum investments – which are a waste of time and money. The real altcoin gems are found on the Binance smart chain and Avalanche network.
Why do I trust Ken's expertise?
I don't know about you, but I appreciate the passion he puts into his work. The videos on his channel are very well documented, with qualitative information and sustainable decisions.
He doesn't try his luck with his investments, even if he loves to take risks. All of his choices are based on comprehensive research, and even more, he uses various software and tools to validate his research – like auto-farm or the Bitcoin Rainbow chart.
Plus, he proved his potential from the beginning. He started all this adventure in April 2017 when he was in college. He invested $20 in ETH, and he arrived at a profit of almost $2,000 at the end of the summer. Until the end of December, the same year, his profit went to $30,000, and less than a month later, he hit $100,000.
This encouraged him to drop out of college and dedicate his time to crypto and YouTube, helping others fight debt and other financial issues. His most successful project brought him $150,000 out of $15,000 in just a single month.
He risked everything to dedicate to his passion, and I am glad I discovered him. I personally think he is extremely underrated, considering his work and the quality of it.
Any advice for the 2021 Bull Run?
He couldn't miss such a thing. Ken recently posted a video about it, which completely changes the way we look at crypto investments. In the video, he tells us everything we need to know to reach profits of no less than 100 times our investment.
That's right! And I am thrilled to try his new strategy, let alone excited to tell you as well.
If you also want to substantially increase your income, check out Ken's Youtube channel and let me know how these strategies work with your own portfolio!