Press release December 1, 2021
Big news in Croatia: From today you can use cryptocurrencies for grocery shopping
Electrocoin is now collaborating with Konzum, Croatia's largest supermarket chain, and as of today it is possible to buy more than 12,000 items from Konzum's online store using the PayCek system.
Zagreb – Thanks to the partnership between Electrocoin, one of the fastest-growing Croatian fintech companies, and Konzum, Croatia's largest supermarket chain, we have some big news from Croatia for you – bread, milk, or for that matter any household and hygiene product can as of today be paid for using cryptocurrencies. From today, more than 12,000 items from Konzum's online store will be available to the general public, while in the next period the same option should also become available in physical stores across the country.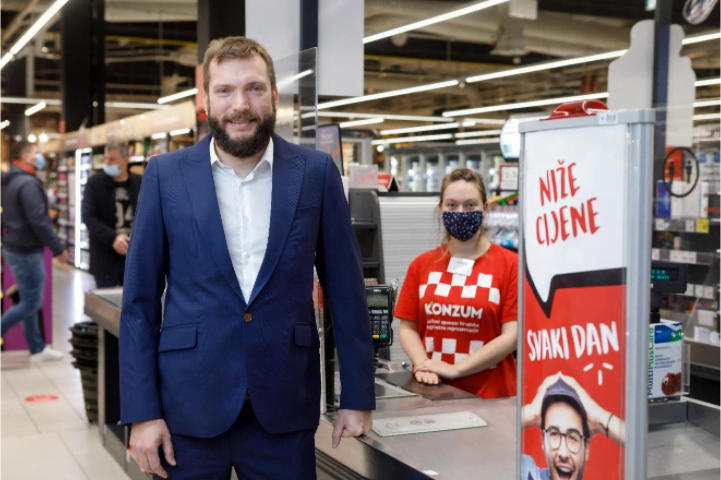 Nikola Škorić – Electrocoin CEO | Photo: Tomislav Miletić/PIXSELL
"This is a big and important day for us and, in a way, a historic date for Croatia. Today we have practically caught up with technologically advanced countries such as Japan, which have just recognized the potential of cryptocurrencies – we can pay for our groceries quickly, easily and legally with Bitcoin or some other cryptocurrency. Cryptocurrencies are now entering the mainstream and we believe that this will in some way be an incentive for everyone else to start using cryptocurrencies. This is just the beginning of the widespread use of cryptocurrencies – which many Croatian entrepreneurs and institutions such as Croatian Post or Mate Rimac's Greyp already recognized, and we hope that all benefits that this modern technology has to offer will soon also be used by other people, from hairdressers to large corporations", said Nikola Škorić, founder and director of Electrocoin.
As of today, this benefit is available to all residents of Croatia, thanks to the PayCek system offered by Electrocoin. PayCek is the first Croatian cryptocurrency payment processor already used by numerous Croatian companies, which attracts new generations of consumers. The system provides merchants with a reliable service, without any fees or commissions.
"We are grateful to Konzum for partnering with Electrocoin and choosing our PayCek platform, which is a straightforward, secure and reliable system for receiving payments in cryptocurrencies. Our collaboration with Konzum is the pinnacle in the realization of our strategic goals and efforts that this company has invested in the development of our service, and I believe that with this and all previously established partnerships we have once again proven our expertise and reliability", he stressed.
A total of nine different cryptocurrencies will be available for payment at Konzum – the most famous among them being Bitcoin (BTC), but also Ethereum (ETH), Bitcoin Cash (BCH), EOS, DAI, Ripple (XRP), Stellar Lumen (XLM), Tether (USDT) and USDC.
Cryptocurrencies are thus becoming widely usable. In addition to the increasing availability of purchase or sale of cryptocurrencies via our Bitcoin exchange office, there is a noticeably strong trend of growth among businesses that offer their customers the option of payment in cryptocurrencies.
For example, the general public can already use it to pay for fuel at Tifon gas stations or communal fees in the towns of Cres and Sveta Nedelja, and this collaboration between Electrocoin and Konzum is a significant step for Electrocoin too.
An important trend that is causing a wave of growing interest in the introduction of our service is the result of the growth of the value of cryptocurrencies, which is in its "bull run" phase, as well as the soaring increase in the use of decentralized finance services (DeFi). In three years since its birth, PayCek's turnover on the platform has grown 300-fold and businesses, which are just beginning to recognize the potential of cryptocurrencies, have been showing an ever increasing interest in introducing the service in their operations.
Press contact
Hrvoje Hrvatin – Marketing manager
+385 99 629 29 88
---
Paid press release submission notice
: The publication of a press release on this page should not be viewed as an endorsement by BitcoinsInIreland.com. Customers should do their own research before investing funds in any company. Read more in our
Editorial policy
---