PrimeXBT is a trading platform that is perfect for professionals, as well as first-time traders, and it's crafted with a foundation of experience in traditional markets, which are presently going through a period of record-breaking volatility.
Because of the platform's roots deeply ingrained in traditional markets (although it got its start as a cryptocurrency exchange) it features a large list of traditional assets, and the tools available are more typically seen within traditional trading platforms.
This reveals PrimeXBT as a unique proposition for traders, especially during the current economic conditions. Let's see if the trading platform is worth signing up for in this detailed and in-depth review.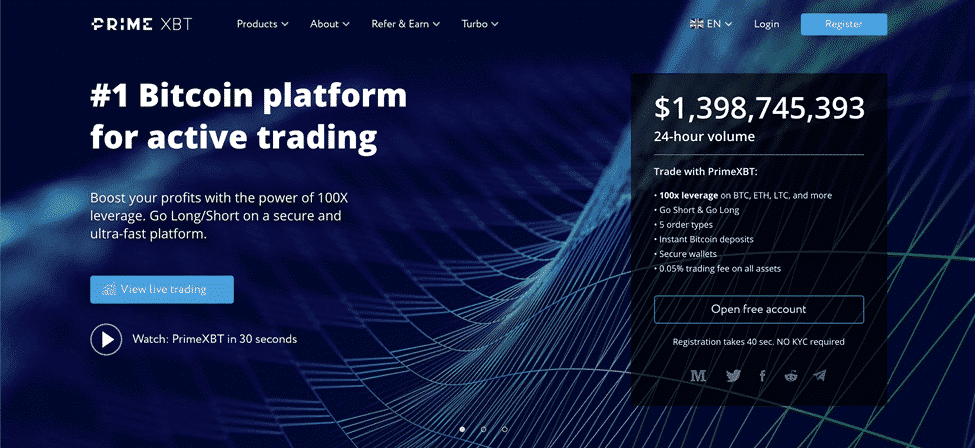 PrimeXBT General Information and Details
PrimeXBT is registered and based in Seychelles but is available to any and all global traders. The platform is highly safe, ultimately secure, and recently won a number of Forex Awards and the ADVFN award for Best Bitcoin Margin Trading Platform.
Registration is fast, and takes less than one minute tops. It also asks for no personal info and doesn't require a KYC process.
Making a deposit is simple and easy; the smallest possible deposit acceptable is 0.001 BTC. Bitcoin may be deposited to a BTC address and wallet from any external account, or by using a third-party module and service known as Changelly.
After finishing the process in the Changelly widget, you may then transfer the newly-deposited BTC to your trading account and begin trading at your earliest convenience.
After your trading account is funded, select the Trade section to open the trading terminal to begin taking advantage of the platform's advanced trading utilities.
Withdrawing funds can be done by visiting the Account section and making an internal transfer from their trading account back to the personal wallet. After an address is added to the BTC address whitelist and confirmed via email a withdrawal can be made.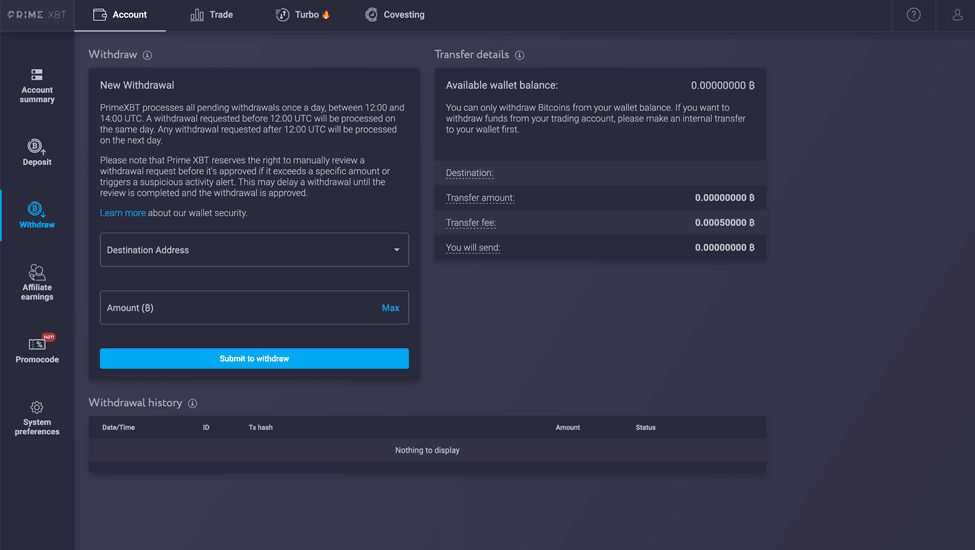 Fees are very competitive and are as low as 0.001%. Most markets are open and available for nearly 24 hours, Monday through Friday, and cryptocurrencies trade around the clock, and even on weekends.Traders can work at reducing their fee impact and save more capital through a progressive fee discount system. Traders with 300 BTC trading turnover up to 600 BTC turnover, get 25% off, and those with more than 600 BTC turnover are offered 50% savings.
Outstanding Variety of Assets and Advanced Trading Tools
The variety of assets offered by PrimeXBT, all under one roof, is simply incredible.
Over 50 assets across commodities, cryptocurrencies, forex, and stock indices
Many different commodities and a dozen of the globe's most important stock indexes
Gold, silver, natural gas and oil
S&P 500, DAX, Dow and more
Over 25 major forex currency trading pairs: USD, JPY, AUD, etc.
5 of the most important cryptocurrencies: BTC, ETH, etc.
The platforms that offer the greatest variety of trading instruments, also provide the greatest amount of profit opportunities and the best possible diversification of your asset portfolio.
The trading engine is rock solid, offering fast order completion and up to 99.9% uptime with very few outages reported to date.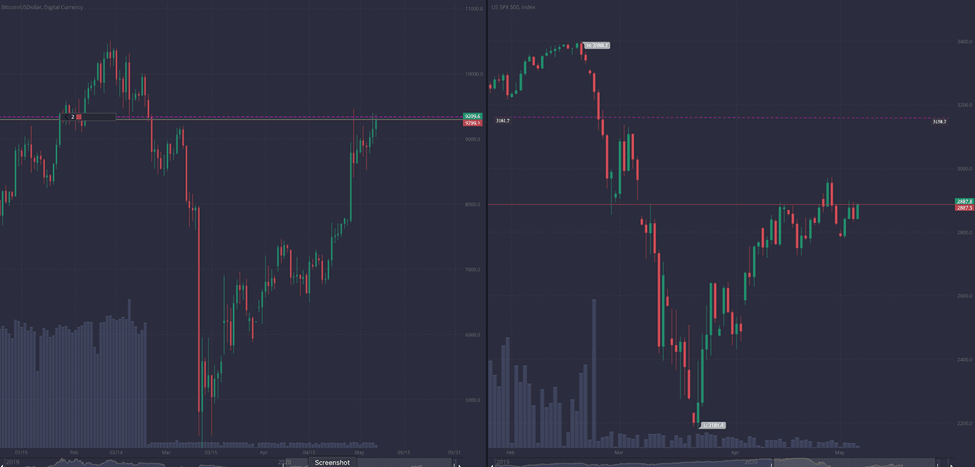 The user interface is highly customizable and has serious aesthetic appeal. An intricate support center is brimming with helpful guides and useful tips.
The website is highly secured and passwords are encrypted. Bank-grade security protects all user accounts and data. Additional safeguards through address whitelist, email confirmation, and two-factor authentication further keep funds safe. And with no info ever required, your personal and private data is safe from leaks.
Leverage is offered at up to 1000x for forex currencies, and up to 100x on the remainder of assets on the platform including commodities, cryptocurrencies, and stock indexes.
Long and short positions are available, even at the same time allowing the building or hedge positions. Advanced order types such as stop-loss or take profit orders can be added when an order is placed or afterward if preferred.
Built-in charting tools round out the offering, but may be the most valuable tool of all. Traders can plan accordingly, then place orders directly by clicking on the chart itself.
PrimeXBT regularly introduces new innovative features, such as synthetic short-duration Bitcoin contracts called Turbo, and a new feature called the Coveesting Fund Management module.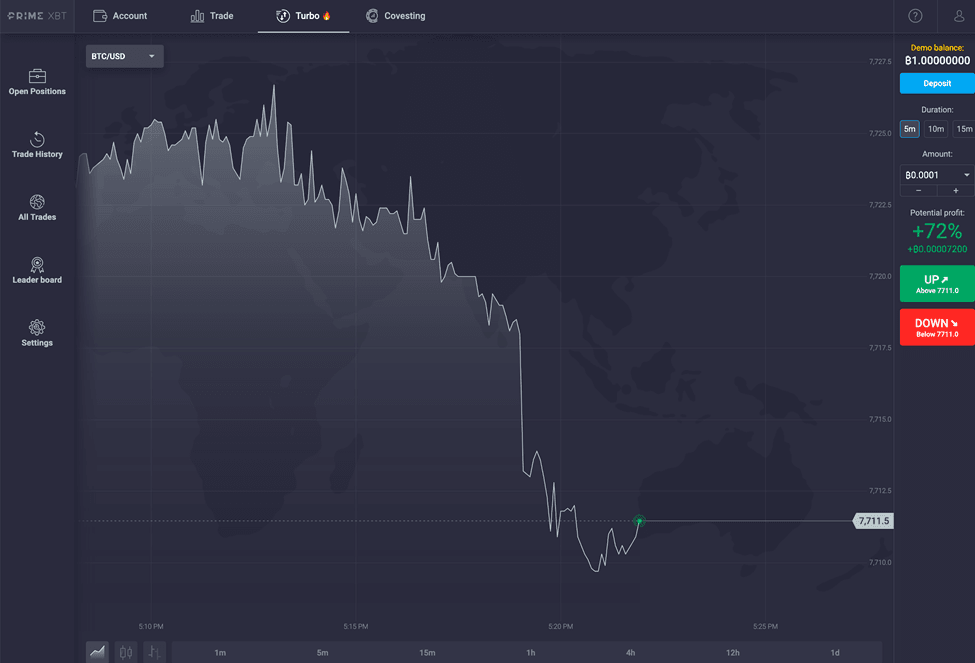 Turbo lets traders take a break from stagnant markets and instead take short-duration trades consisting of just an UP or DOWN contract. These short-duration contracts can provide up to 90% profits in 30s seconds.
Covesting was just released in beta form, letting investors inject capital into the funds of top traders. These top traders take positions and profit from markets, letting the investors get a piece of the pie.
Recapping PrimeXBT's Best Benefits
PrimeXBT is an ADVFN award-winning Bitcoin-based margin trading platform offering up to 1000x leverage on commodities, stock indices, forex, and cryptocurrencies.
Here are the platform's primary benefits and features:
One minute or less registration, with no personal data required
001 BTC minimum deposits, alternative deposit methods available
Bank grade security with additional protection features; reliable trading engine
Long and short positions and up to 1000x leverage on forex, crypto, stock indices, commodities
Built-in charting tools with technical analysis indicators 24/7 live customer service
Innovative tools such as Turbo and Covesting
Free mobile app for iOS and Android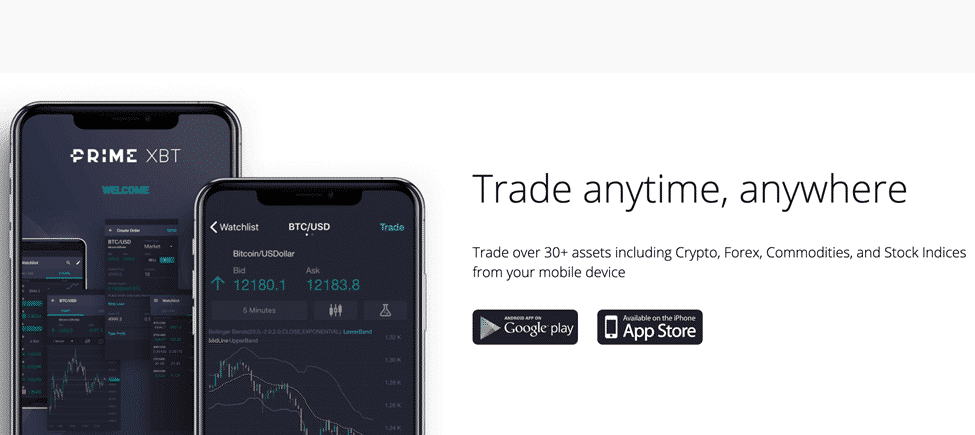 Conclusion: Sign Up For PrimeXBT Today
The security is uncompromising, and privacy is a focus for the platform that doesn't require a KYC process, or personal info. Because of this, signing up is quite fast.
Once you get started with a free trading account, the platform offers everything a trader needs to become profitable, including charting software, risk mitigation tools, a help center, and so much more.
Due to all of this and more, PrimeXBT is highly recommended for traders of every experience level and background.
This is a sponsored post. As it's related to crypto trading, you should also read our risk warning. Read more in our editorial policy.